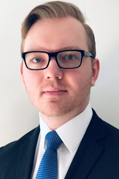 Andrew Peddle, B.A. will commence his 2021-2022 articles with Alpert Law Firm following his completion of the joint JD/MBA program at Osgoode Hall Law School and the Schulich School of Business, where he received the Dean's Entrance Award for academic excellence. He also received the R.J. Gray Award in the final year of his joint degree awarded to a JD student who demonstrates outstanding academic achievement and involvement in extracurricular activities.
Andrew will specialize in tax dispute resolution, tax litigation and taxation and estate planning services. He also will assist our team with its frequent seminars and monthly newsletters geared towards accountants and lawyers.
During his JD/MBA studies, Andrew volunteered at the Law Society of Ontario in the Trustee Services department where he wrote numerous research memorandums on topics including the fiduciary duties of a trustee and comparing Ontario's trustee legislation with other Canadian provinces.
Andrew holds a Bachelor of Arts Honors degree in Criminology from Wilfrid Laurier University where he graduated with distinction. At Wilfrid Laurier University, Andrew volunteered as a research assistant for a paper on reconciling utilitarian and retributivist approaches to punishment. Andrew received scholarships from Wilfrid Laurier University as a member of the Dean's Honor Roll List throughout his undergraduate degree. He also volunteered as a youth supervisor at the YMCA.